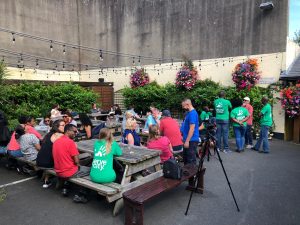 In June, we launched the new Serve the City Ireland Strategic Plan – Volunteers Serving Communities. We believe the Plan is ambitious, yet realistic and sets out a clear path for how we intend to deliver on our mission over the next three years. Part of the objectives of Volunteers Serving Communities is to improve DIY work processes by breaking down and clarifying volunteer roles and developing the leadership potential of our volunteers.
To get started the Board put in place an Operations Leadership Team and undertook a series of DIY Process Improvements, facilitated by a professional Project Manager.
With this in place SERVE Days were relaunched on 24th August. Two volunteer teams undertook gardening and painting projects. Ewnetu who volunteered for the first time with Serve the City that day, commented:
         "It was moving to see the joy on the client's face after we finished the work. The place will be even much better when we complete the painting next time".
After the SERVE projects everyone was invited back to Brady's in Terenure for a Social. As well as getting a chance to socialise and enjoy refreshments some of the Trustees gave an overview of the new Plan and the Volunteer Leadership roles that are on offer – which can be viewed/downloaded stc-roles_final-for-24.08.19